Wine tour "Great wines of Burgundy"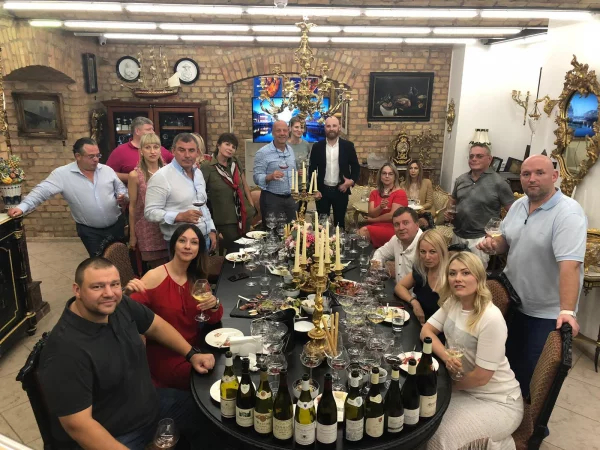 Ladies and Gentlemen!
The first wine tour "The Great Wines of Burgundy" was held yesterday at the Antiqon Art and Antiques Center. This evening the guests of the center tasted delicious wines of one of the best wine regions in France - the famous communes of the Burgundy region "Côte-d" Or "and" Cotes-de-Nuits."

For tasting were presented:
Blanc
MEURSAULT 1ER CRU PORUZOTS 2004 Domaine ROUX PÈRE ET FILS
PULIGNY MONTRACHET 1ER CRU LA GARENNE 2015 Domaine BALLAND CURTET
CHASSAGNE MONTRACHET 1ER CRU CAILLERET "2014. Domaine CAILLERET"
PULIGNY MONTRACHET 1ER CRU CHAMPS GAIN 1999 Domaine PIERRE YVES MASSON

ROUGE
VOLNAY 1ER CRU MITANS 2011 Domaine MICHEL LAFARGE
POMMARD 1ER CRU LES EPENOTS 2008 year Domaine CHRISTOPHE VIOLOT GUILLEMARD
CHARMES CHAMBERTIN GRAND CRU 2011 Domaine DES VAROILLES
CORTON "RENARDES" GRAND CRU 2014 year Domaine MAILLARD

The tasting took place in the hall of the lower floor of the center, filled with the spirit of history and the decoration of bygone eras.
We want to thank all our guests for their support and participation in the new, genuinely fascinating event of the center!

Our gratitude to the company Noble Wine and personally sommelier Irina Rakevich for an exciting excursion into the world of Burgundy wines!
We want to thank Caviar House for the delicious sturgeon caviar provided for our tasting.
Our gastronomic tours to the greatest wine regions do not end there - stay tuned for more news and come to visit!
We are waiting for you, friends!