The grand opening of the exhibition "The captivating brilliance of luxury: a golden thread through the ages."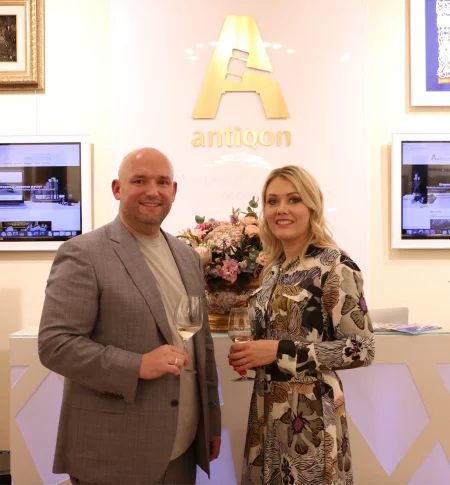 On July 5, the Antiqon Center for Art and Antiques hosted the grand opening of the exhibition "The captivating splendor of luxury: a golden thread through the ages".
Against the backdrop of the precious art objects presented at the Antiqon center exposition, the guests of our evening shone no less brightly: Ambassador Extraordinary and Plenipotentiary of Russia to Latvia Evgeny Vladimirovich Lukyanov, People"s Artist of the Russian Federation Klara Novikova,
People"s Artist of the Russian Federation Emanuel Vitorgan with his wife and little daughter,
the editors of Vip Lounge magazine - Elena Sheinina and Titanium magazine - Marina Dianova, business lady Irina Sova, as well as prominent representatives of the business and creative intelligentsia of Latvia and Russia.
Under the musical accompaniment of singer Diana Pashko, the event was hosted by TV presenter Maya Silova, and guests could not only get acquainted with the rich exhibits of the exhibition but also taste several varieties of the black caviar project proposed by the partners under a glass of champagne.

The organizers of the exhibition, spouses Tatyana and Alexander Moiseenkov, addressed the guests of the event with a welcoming speech, who announced a rich cultural and educational program to the guests, which takes place as part of the summer season of the Antiqon art and antique center.
The Antiqon Marketplace was presented to the distinguished guests of the evening, its wide range of services for art collectors, representatives of the art market, and the benefits of cooperation for industry professionals.
With all our hearts, we would like to thank our esteemed partners: JEWELS –STOCK, CAVIAR HOUSE, NOBLE WINE, iMedia Group, who helped create the unique atmosphere of this beautiful evening.
Many thanks also we want to say to all the guests who have responded to our invitation!
The doors of the Antiqon Center for the Arts and Antiques are open to all lovers of the beautiful, without exception - everyone will find something to their liking in the magical world of art and antiques.
Stay tuned for the rich cultural program of the summer season! Welcome to Antiqon!