"Fakes in the world of art or Great falsifiers of the world"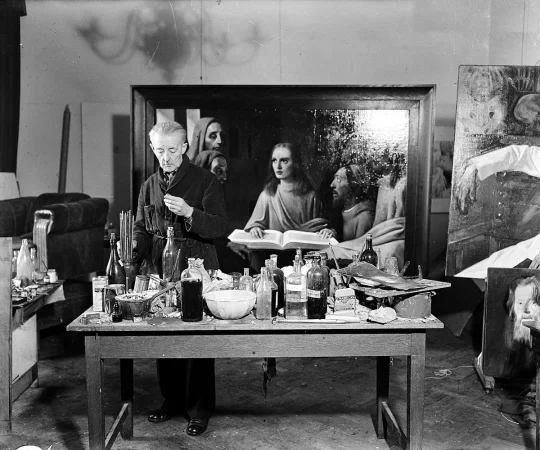 Yesterday, on August 3, 2019, as part of the Antiqon summer season program, a lecture was held whos main them was: "Fakes in the world of art or the world greatest Falsifiers ."
According to tradition, the lecture was held at the historical table in the lower floor of the center, filled with the spirit of history and the decoration of bygone eras, the host of the meeting, art historian Mikhail Itkin, told the guests about the world greatest Falsifiers - who they were and how they managed to deceive not only ordinary people and buyers - beginners but also famous collectors, as well as respected experts, famous art historians, and sometimes even famous artists.

Over a glass of wine in a relaxed atmosphere, the guests of the event got acquainted with the unique biography of the ingenious counterfeiters of our time, whose deception skill can be brought into the genre of real art. Before the eyes of the guests appeared animated detective novels with intrigue, graceful crimes, and inevitable retribution. During the meeting, Mikhail helped the guests of the center understand the common schemes of fraud, the main methods for identifying fakes in the visual arts, and gave recommendations on how to protect yourself from buying copies and fakes.
On behalf of the SIA ANTIQON company and all the participants in the meeting, we thank Michael for such an informative story about the "Great falsifiers of the world" and the common methods of fraud in the art world.

Ladies and Gentlemen!
We remind you that on August 17, 2019, as part of the Antiqon summer season lecture series, the last thematic meeting "A Golden Thread Through the Ages" will be held, hosted by cultural expert Anna Danielyants.

Together with Anna, the guests of the event will plunge into the atmosphere of fine art. Anna will talk about the role of the artist in history, and that gives the subject artistic value. Using examples from the rich Antiqon collection, Anna will tell about the magic of antique objects from different historical eras: guests of the event will learn that in common with a can of Campbell soup Andy Warhol in 1962 and silver tureen Germain of 1733, they will learn to distinguish genuine art from the mainstream. for a fascinating immersion in the history of art, it will allow guests of the center to develop a sense of taste and help to understand the richness and diversity of art markets better

We are waiting for everyone to visit us!